The Uyuni salt flats is the iconic destination of Bolivia. It is the largest salt desert and the highest, located at 11,995 feet within the high plateau region of the Andes.  It has an extension of 4,085 square miles; It is 45 minutes by plane from La Paz.
The mirror effect is generated when the salt becomes waterproof and the water accumulates on the surface, creating a mirror effect. The Uyuni salt flat is the largest lithium reserve with 50% to 70% of the world's known lithium. It is estimated that it was formed between 25,000 and 40,000 years ago due to the evaporation of several lakes in the area.
It is recommended to visit the salt flats between the months of December and April, in the rainy season, in order to see the mirror effect. Although between the months of May and November the dry season; You'll get photos of one of the clearest and cleanest skies on the planet, especially at night.
Likewise, there are three types of flamingo species: the southern flamingo, the Parina grande and the Parina chica. The best season to observe them is during the nesting stage: from December to March.
This fantastic place not only has colorful lagoons but also geysers, geothermal waters, volcanoes, the Dalí Valley (a landscape similar to that of Mars) and some 80 species of migratory birds.
The festivity begins with a rite, the ever-present payment to the Pachamama (mother earth), and to her three tutelary Apus (spirits of the mountains that protect men). The bullring is crowded with diverse people, heterogeneous clothing, some are dressed up, with hats, with caps adorned with animal heads that can be cougars, deer, eagles and ducks. The bullring exhibits excitement of small towns, where this holiday creates a feeling of anarchy.
It is estimated to contain about 20 million tons as of 2019.  There are also 11 layers of salt with thicknesses that vary between 1 and 10 meters.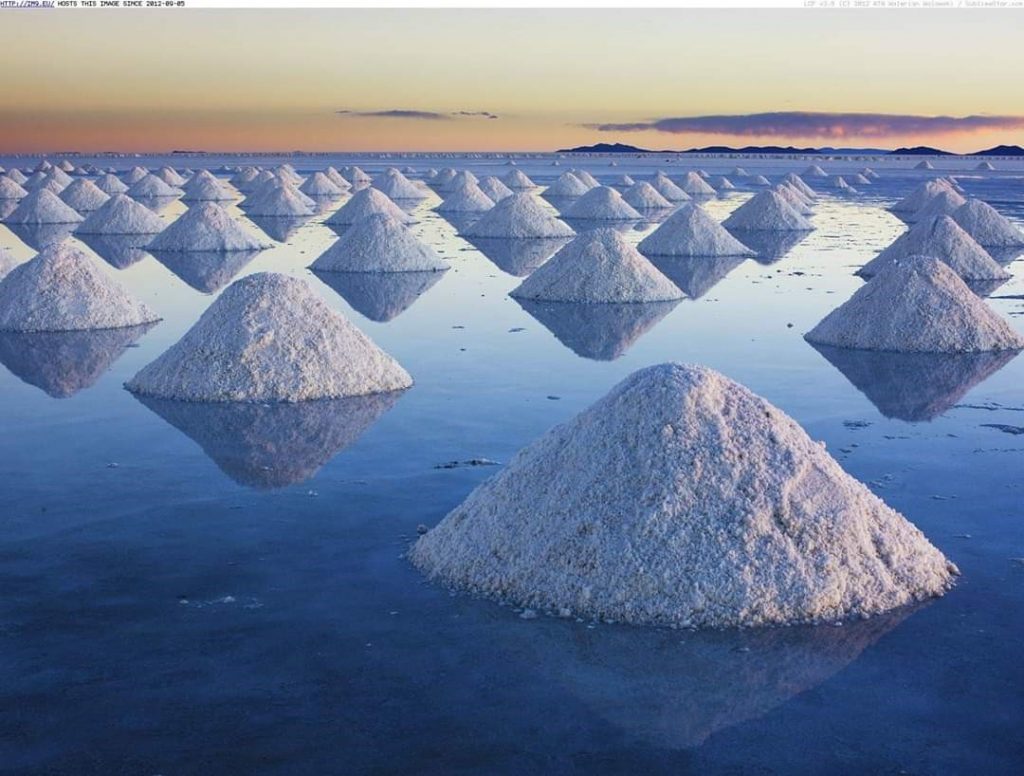 In the Uyuni salt flat, the traditional method of salt extraction consists of forming small piles, so that the water evaporates.
The Uyuni salt flat is a magical place that must be on your travel wish list, a must for adventure and nature lovers, photographers and couples who want to see beautiful landscapes.
It is also a magnificent opportunity to combine your vacation of Bolivia with Machu Picchu since both countries are close in distance to each other. Please check out our tour package combining Peru and Bolivia, DISCOVER PERU & UYUNI FLATS touring for 10 incredible days in South America.
If you are planning to visit Peru please click on www.tourstrekperu.com and browse for ideas of our incredible country. Contact us at info@trekperu.com or info@tourstrekperu.com for more information on your personalized vacation in Peru. Our specialist are waiting to design your dream vacation in Peru.