In this blog we will talk about one of the most enigmatic and beautiful sectors of this famous Inca citadel of Choquequirao and know about our private luxury trek to get in.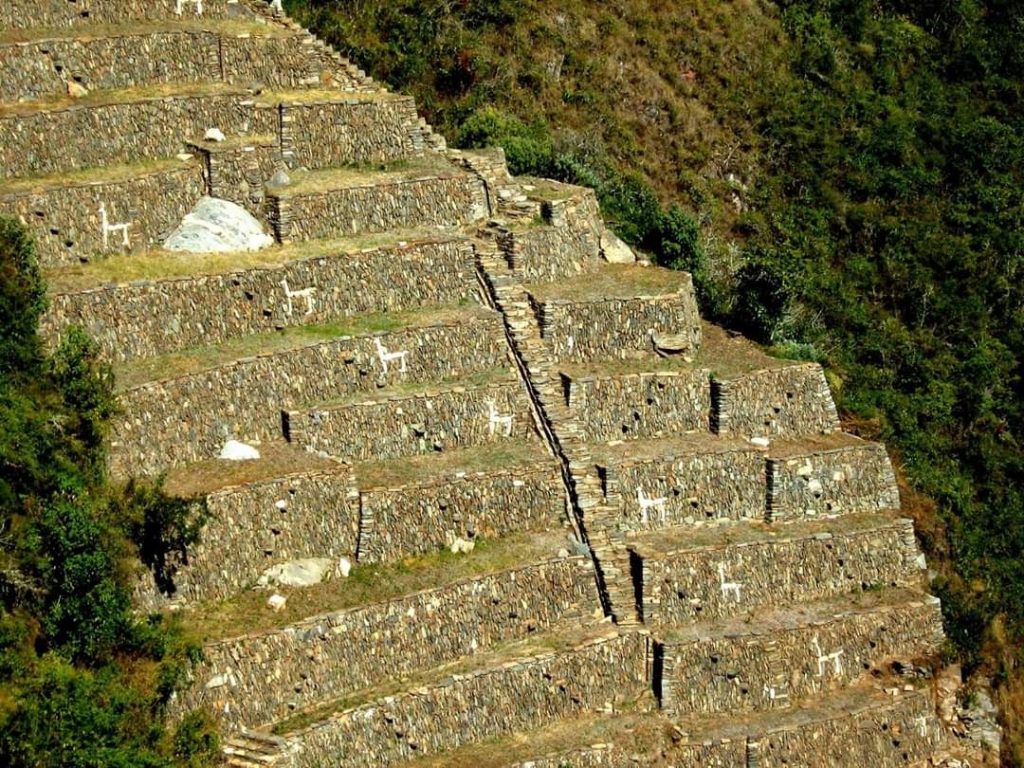 HISTORY OF CHOQUEQUIRAO
Choquequirao (Craddle of Gold in Quechua) is an archaeological jewel that was rediscovered in 1911 by Hiram Bingham, the same expeditionary who rediscovered Machu Picchu. This complex is located in the lower middle basin of the Apurímac River at 3,100 m (10,170 ft) and has an extension of 4,400 acres.
History says the citadel of Choquequirao served as a link between the Amazon jungle and Cusco. Also as a checkpoint to get to Machu Picchu. Historian says Choquequirao served as political and religious center.
LLAMA SECTOR
Extends over a series of 138 wide terraces, distributed for cultivation and small residential areas. The building served as a support to graph the 28 llamas figures and also other anthropomorphic, zoomorphic and geometric motifs.
SECTORS OF CHOQUEQUIRAO
This wonderful citadel has 11 sectors, among the most representative for instance are the Main Square, the Qolqas or food warehouses, the Triumphal Wall, the Ceremonial Platform, the Temple of the Priests and the picturesque figures of llamas on the platforms.
THE LUXURY TREK EXPERIENCE OF CHOQUEQUIRAO
In order to visit this impressive citadel isolated from civilization, we must make a unique 6-day walk surrounded by huge canyons in the Vilcabamba mountain range. Click here to see the details of the experience. http://tourstrekperu.com/choquequirao-trek-machu-picchu/
Consequently you feel like the first person to discover it. Choquequirao is bigger than Machu Picchu and receives very few tourists. In conclusion don't miss an opportunity to embrace with ancient history away from the crowds. Talk to a Tours Trekperu Travel Specialist and start planning your vacation in Southern Peru to hike from Choquequirao to Machu Picchu visiting two of the greatest sites in Peru.
If you are planning to visit Peru please click on www.tourstrekperu.com and check our package of our incredible country. Contact us at info@trekperu.com or info@tourstrekperu.com for more information on your personalized vacation in Peru.