IQUITOS AMAZON RIVER CRUISE 4 DAYS
IQUITOS AMAZON RIVER CRUISE
4 DAYS
Highlights
Voyage in a Luxury ship cruising the Amazon River in the Iquitos jungle basking in its beauty. Admire the wildlife and vegetation, swimming in the River with the dolphins, fishing for piranhas and more. This journey will be peaceful, adventurous and refreshing being pampered throughout. The perfect cruise for nature lovers.
Itinerary at a Glance
| Days | Destinations | The Experience |
| --- | --- | --- |
| Day 1 | Monday in the morning fly from Lima to Iquitos and aboard the Delfin I vessel | Iquitos arrival and private transportation to Nauta in the Maranon river and aboard the Delfin I vessel, exquisite and cozy suite, happy hour and orientation, overview's schedule, activities, route, highlights, wildlife and vegetation, begin the navigation |
| Day 2 | Pacaya Samiria National reserve | Hike the Fundo Casual jungle trails, observe giant Ceiba, jacamar, trogons, cardinals and more. Swimming in the river with pink dolphins, meet with a shaman |
| Day 3 | Pacaya Samiria National reserve and Amazon river | Stand paddle on Tahuampa lake, canopy in the rainforest, kayaking in a creek, fishing piranhas and observe caimans during the night |
| Day 4 | Pm Fly to Lima and connect to your international flight | Visit San Francisco community and interact with the villagers, visit the Rescue & rehabilitation center of river mammals and see manatees. Then, continue to the airport |
Itinerary
Day 1 Lima – Voyage Iquitos Luxury Delfin 1 – 4D/3N (Departs on Mondays)
Itineraries vary based on whether the travel dates fall in the high water/rainy season or low water/dry season.
If Delfin I is not available for your dates then we will replace with Delfin II, Delfin III or Aqua or Aria
Arrive in the Iquitos airport where our crew will greet you and transfer all together in our comfortable private vehicle. We will provide a lunchbox as we begin the journey to Nauta. Arrive to Nauta port: Nauta is a small riverside town on the banks of the Marañon River and was the first city founded in the department of Loreto. Once we reach Nauta, you will enjoy a VIP greeting at our private port along the shores of the Marañon River where the vessel awaits you. Embarkation: Aboard Delfin, you will be served by our qualified staff who will introduce you to your exquisite and cozy suite, specially equipped with all the amenities for the experienced traveler as yourself. Orthopedic beds, pure cotton sheets, pillows of 100% pure natural latex, cotton bathrobes, air conditioning, and private bathroom with Spanish style hot water showers are all framed with a spacious private terrace we are sure you will enjoy to the fullest. Happy Hour and orientation: While the Delfin begins its initial navigation, you will enjoy the most fantastic panoramic views from the elegantly outfitted observation area located on our third deck. Our bartender will be waiting to serve you with an exotic cocktail made with regional fruits and pisco, the beloved national brandy liquor of Peru. Then, your naturalist guide will give you an overview of your journey's schedule, activities, route, highlights, wildlife and vegetation to keep your eye out for, geographical and historical background, and other useful details. The third deck features an entertainment center which offers use for film presentations, as well as extensive literature about the area (fauna, flora, etc.) There is also a completely equipped bar so you can test any combination of regional and international liquors and aromas that the bartender will be happy to provide for you to enjoy under the spell of the beautiful Amazonian afternoons and night, and the sweet breeze of the rainforest. Moreover, should you have any doubts or questions, our guides are always fully at your service.
Cruise
Lunch and dinner included
Day 2 Hiking the Jungle Trail – Swimming with Pink Dolphins
AM: Fundo Casual
This morning, we hike the Fundo Casual jungle trail, taking us deep into the rainforest on terra firme (non-flooded forest). Biologically, this kind of forest is one of the richest habitats on earth, supporting a vast number of plant and animal species. Among the flora is the giant Ceiba (kapok) tree, recognizable by the girth of its trunk, along with many smaller medicinal plants, which the guides will point out on the hike.
As for the fauna, this rainforest is very good for spotting birds such as the Bluish-fronted Jacamar, Collared Trogons and Red-capped Cardinal.
PM: Yanayacu Pucate / Shamana
This is one of the best preserved and protected zones of the Pacaya Samiria National Reserve. Your guide will use his expert eye to pinpoint all the biodiversity of this region. If you want to interact directly with the waters of the Amazon, go out on one of our paddle boards. You will even have the opportunity to swim in the jungle river along with the famous pink dolphins!
Afterwards we will visit the village of San Regis is a flyspeck on Peru's Amazon River that receives few outside visitors, and even fewer come to seek out the Shaman, Carola. Carola is known far and wide in the rainforest, leading a normal village life with her wood carver husband, while at the same time acting as spiritual caretaker and healer to literally hundreds of jungle dwellers spread over many road less miles. Her prestige and position are beyond reproach. The role of shaman is often misunderstood in the west, associated with black magic, and spells while these things all have their place; the actual practitioners are as varied as in any profession. Carola is known as a "White" shaman, a healer and spiritual guide.
Breakfast, lunch and dinner included
Day 3 Paddling on the Lake – Adventure Kayaking
AM: Amazon Park: Begin your morning with an adventurous journey to visit to a private reserve complete with 8 hanging bridges high up in the rainforest canopy. To get there, you will walk through primary forest and paddle slowly through tranquil Tahuampa Lake, a black water lagoon with giant arapaima fishes (known locally as paiche) and with luck, you might hear them jumping up to breathe the crisp dawn air. The suspension bridges will give you a peek into the life and riches up in the treetops for many of the Amazon's animals. A symphony of sounds will surely enchant your ears.
PM: Nauta Caño Creek: After lunch, explore Nauta Caño, a small creek and tributary where you will have the chance to do some kayaking. Also, go fishing for the famous piranha, a delightful and challenging experience you won't forget! As night approaches, your guide will take you on a night safari in search of caiman alligators and night birds.
Breakfast, lunch and dinner included
Day 4 Meet the locals of the Community San Francisco – Lima – International Flight
AM: San Francisco community: On board our skiffs, you will visit the community of San Francisco to meet local villagers who have called Amazonia their home for generations. You may step into a typical schoolhouse where the children will be very happy to have visitors, and then stop by an area to see the women of this community who have a most amazing arts & craft market.
Disembarkation: With heavy hearts, the staff will wish you farewell as you begin your departure. At the port of Nauta, our ground crew will be waiting to take you by our private vehicle back to the city of Iquitos, about 95 kilometers journey by paved road.
PM: The Rescue & Rehabilitation Center of River Mammals (ACOBIA): On our way from Nauta back to Iquitos airport, you will visit the Rescue & Rehabilitation Center of River Mammals (ACOBIA) where you will have the chance to meet baby manatees and learn about these wonderful and docile creatures and why they are on the endangered species list. You will also have the chance to pet and feed these kind manatees. As well, there are also some other animals cared for by the center that have been rescued from capture for the intention of being turned into pets and other threatening conditions. We welcome you to donate to this ambitious organization and education center as you wish. Our land personnel will wait you at the airport and give your boarding passes and help you check in.
Breakfast and lunch included
End of Services


You can choose from the following Cruisers:
Delfin Iquitos Cruise 3 Nights Departure days:
Delfin 1 – Mondays
Delfin 3 – Saturdays

Note: If Delfin is not available, you may choose from the following alternative Cruises. (Zafiro M/V, Aria M/V)
Included
SERVICES INCLUDED
Day by day itinerary improved by you and your ToursTrekperu travel designer.
This itinerary is based on 2 people travelling together in double or twin occupancy.
Professional English speaking guide
Your trip coordinator is available 24/7 for any assistance and needs that you may require.
All in-country transfers as scheduled
Accommodation in the cruiser
All entrance fees for places mentioned in the program.
Comfortable vehicles + professional drivers.
Meals according the itinerary. Vegetarian diets accommodated on request (advance notification required). For other diets, consult your travel specialist before making a reservation.
SEVICES NOT INCLUDED:
Travel Insurance (highly recommended)
International flights, nor local flights within Peru.
Tours, meals or other services not listed on the itinerary.
Alcoholic beverages nor items of a personal nature; such as clothing, equipment, laundry and phone calls.
Expenses incurred in trip preparation such as, but not limited to, non-refundable airline tickets, travel insurance, and additional expenses resulting from flight delays, schedule changes, cancellations, or missed connections.
Tips to the local staff.
Accomodation
M/V ARIA
Type: 32 passenger motorized luxury riverboat
Length: 147 ft
Cruising speed: 12 knots
Cabin size: 240 sq ft
In the wake of the M/V Aqua's great success, its creators conceived of a sister ship of slightly larger size and even grander features, making it the largest of our selected vessels. The M/V Aria was built in 2010 and launched in 2011, three years after the M/V Aqua.
This voyage takes us deep into the world's greatest wilderness through an ever-changing vista of lush tropical rainforest. Our riverboat, one of the most luxurious in the Peruvian Amazon, plies these waters with comfort, elegance and attentive service, affording superb wildlife viewing from her observation deck.
Length: 7 Days/6 Nights
Season: Year-round
Land Cost: from $
________________________________________________________________________________
M/V ZAFIRO
Type: 38 passenger motorized luxury riverboat
Length: 162 ft
The M/V Zafiro is a floating five-star hotel that will draw you into the world of the Pacaya Samiria National Reserve. Admire the beauty of the National Reserve and relax onboard with amenities like a Jacuzzi and first-class dining. Beginning in October 2015, M/V Zafiro will feature 4-day, 5-day, and 8-day itineraries.
Length: 7 Days/6 Nights
Season: Year-round
Land Cost: from $
________________________________________________________________________________
Delfín 1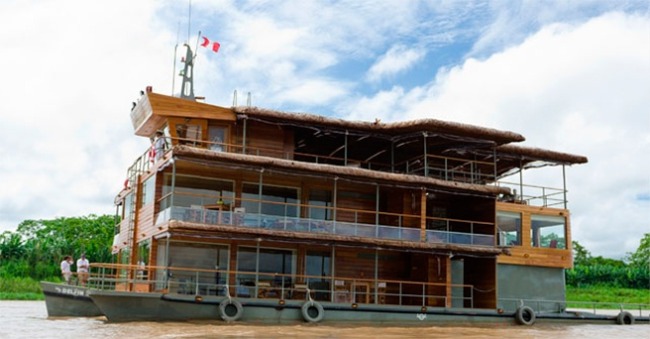 Type: 8-12 passenger motorized luxury riverboat
Length: 69 ft
Cruising speed: 8 knots
Cabin size: 340 to 360 sq ft
Launched in early 2006, M/V Delfin I is the original luxury Amazon vessel, setting the standards for quality and sophistication. It was fully refurbished in 2010.
Delfin I is also the smallest and most exclusive, with only 4 suites total.
Length: 7 Days/6 Nights
Season: Year-round
Land Cost: from $
________________________________________________________________________________

Delfín 2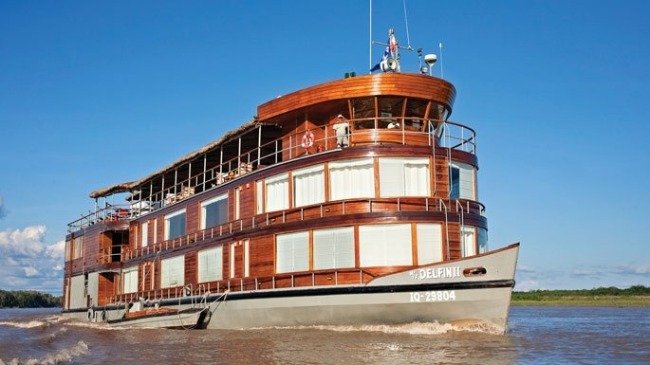 Type: 28 passenger motorized luxury riverboat
Length: 120 ft
Cruising speed: 8-10 knots
Cabin size: 210 to 230 sq ft
Delfin II was launched in 2009 to extend the Delfin's tradition of casual yet refined elegance in Amazon river cruising. Larger than its sister vessel, Delfin II has a total of 14 cabins: 10 suites and 4 master suites.
Length: 7 Days/6 Nights
Season: Year-round
Land Cost: from $
________________________________________________________________________________

Delfín 3
Type: 42 passenger motorized luxury riverboat
Length: 169 ft
Cruising speed: 8-10 knots
Cabin size: 237 to 597 sq ft
The Delfin III is the largest of the Delfin vessels, a new addition to luxury cruising in the Peruvian Amazon, launching Januar 2017. With just 22 suites, the Delfin III provides a luxurious and intimate venue from which to learn about one of the world's most important waterways.
Length: 7 Days/6 Nights
Season: Year-round
Land Cost: from $
Pricing
Our prices are per person in double occupancy (matrimonial or twin) in US dollars, thus if you want a single room you will need to add a supplement cost.
Occasionally, after coordinating your trip with our travel consultant, there could be slight changes in your itinerary or hotels because you want to spend more time in places that interest you, avoid long distances, have more free time or avoid tourist concentrations. These changes will increase or reduce the final price. It is important to mention that most hotels increase their rates during special holidays but our Travel Consultant will inform you and make other suggestions.
Contact Us
Contact Information:
+1-800-566-1305 – Toll-free – (USA/CAN)
+51-84-650603 (to Peru).
Skype: ttrekperu, ttrekperu2, ttrekperu3
Live chat

Whatsapp  

Carlos Ruiz    +51 969168622
Whatsapp  Doris Freire   +51 969290203
Whatsapp  Henry Apaza  +51 969228980