CLASSIC INCA TRAIL TO MACHU PICCHU 4 DAYS
Bus con pax jovenes – copiar
Bus con pax jovenes – copiar – copiar
CLASSIC INCA TRAIL TO MACHU PICCHU
4 DAYS
Highlights
The Inca Trail is the most famous exciting trek in the world. It is known for alluring mountain scenery, subtropical jungle terrain, lush cloud vegetation, orchids and an awe-inspiring mix of Inca ruins, and paving stones is a mystical and unforgettable experience.
Itinerary at a Glance
| Days | Destinations | The Experience |
| --- | --- | --- |
| Day 1 | Start of the Inca Trail Walking Distance: 12km or 8 miles L, D INCLUDED | Visit the Inca ruins of Llaqtapata (2,600mt/8,531ft) |
| Day 2 | Second day of Inca Trail Walking distance: 12km or 8 miles B,L,D INCLUDED | Walk through sub-tropical forest. Spiritual offering ceremony |
| Day 3 | Thrid day of Inca Trail Walking distance: 14km or 9 miles B,L,D INCLUDED | Pass at the spectacular Phuyupatamarca (town of clouds) them rest in Wiñay Wayna (forever young) ruins. |
| Day 4 | Fourth day finally to Machu Picchu Walking distance: 6km or 4 miles B, BL INCLUDED | Hike the legendary Huayna Picchu (OPTIONAL) and make a tour over the citadel and then enjoy a scenic train ride back to Cusco |
Itinerary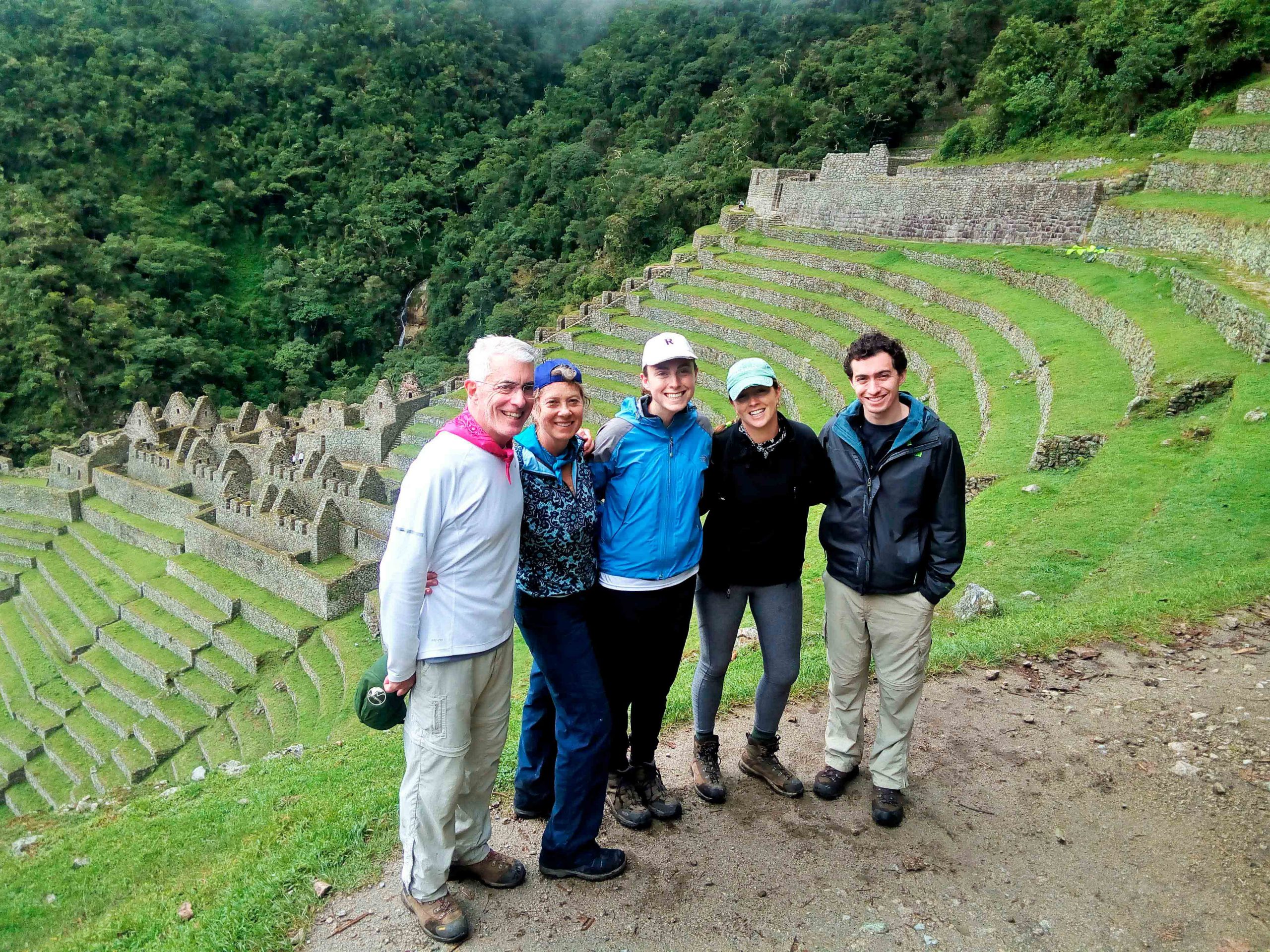 Classic Inca Trail to Machu Picchu at Huayllabamba Camp Day 1
Day 1 Cusco – Piscacucho Km82 – Huayllabamba
This morning you will be picked up from your hotel at 06:30am and drive for about 3 hours from Cusco to Piscacucho Km 82 (2,670m/8,760ft) to start the famous hike. Here we will meet our porters, and camp crew to start the adventure. First we will have our passports ready to check in at the Inca Trail Check Point. Then we will cross the bridge over the Urubamba River to begin our adventure. We will follow the river on leveled terrain while taking in spectacular vistas of Mount Veronica (5.750m/18,865ft) and the beautiful vegetation along the way. On route we will see the Llaqtapata archeological site below and have time for pictures while your guide provides the history behind the complex. Our hike will continue through farmland until we reach our campsite of Huayllabamba (2,925m/9,154ft).
Lunch and dinner included
Walking Distance – 12Kms or 8 miles
Approximate hiking time – 6-7 hours
Minimum Altitude: 2,680m/8,790 ft.
Maximum Altitude: 3,000m/10,824 ft.
Private Classic Inca Trail Day 2 to Machu Picchu at Warmihuanusca High Point
Day 2 Huayllabamba – Llulluchapampa – Dead Woman´s Pass – Pacaymayo
This morning you will have a hearty, energetic breakfast to prepare you for the most challenging day of the trek. We will start the hike early in the morning walking through the sub- tropical forest going up to Llulluchapampa. Then continue climbing up the steep trail for about 4 to 5 hours reaching Abra Huarmihuañusca/'Dead Woman's Pass' (4200m/13779ft.) We will stop along the way to catch our breath and enjoy the fantastic vistas ahead of us. Finally, you will feel triumphant to have achieved a tremendous climb uphill. Here you will rest and enjoy the surreal views of the mighty Andes mountains. Thereafter, we will descend for about 3 hours to the Pacaymayo Valley (3,500mt/11.480ft), our next campsite. Enjoy the stunning views of the nearby waterfall and the snow covered peaks.
Breakfast, lunch and dinner included
Walking Distance – 12Kms or 8 miles
Approximate hiking time – 7 to 8 hours
Minimum Altitude: 3,000m/ 9,840ft.
Maximum Altitude: 4,200m/13,780ft.
Inca Trail to Machu Picchu at Phuyupatamarca camp day 3
Day 3 Pacaymayo – Sayakmarka – Phuyupatamarca – Wiñay Wayna
After an early breakfast we will start our longest walk of the trek, on a well preserved paved path to the impressive Inca archeological site of Runkurakay which is a peculiar circular Inca building which was supposedly used as a control and lookout point. Then continue our final climb to the Runkurakay Pass (3,670m/12,598ft) and see the striking Vilcanota Mountain range. Thereafter, we start walking downwards to reach the Sayacmarca Inca Ruins (3600m/11,811ft.) to have lunch nearby. These ruins were a small populated village from the Inca times which was used as a Tambo (resting place) for pilgrims that were en route to Machu Picchu. Later we will walk through the heavenly cloud forest admiring colorful birds, orchids etc. until reaching Phuyupatamarca (Town of clouds) (3630m/11,909ft) with wonderful vistas of the Salkantay Mountain. These ruins have remarkable remains of water fountains and canals which were left incomplete. Continue descending about 2,000 Inca stone steps to Wiñay Wayna ("forever young" (2,650m/8,692ft) our next campsite.
Breakfast, lunch and dinner included
Walking Distance – 14Kms or 8.7 miles
Approximate hiking time – 8 to 9 hours
Classic Inca Trail to Machu Picchu at Warmi Wañusqa ruins
Day 4 WiñayWayna – Machu Picchu Tour – Tourist Train to Cusco
Today, is a very early morning starting at 4:00am. We will say goodbye to our porters as they transport the equipment back to Cusco. Start walking through the lovely cloud forest where it becomes denser and greener. Admire some multicolored orchids that beautiful trail along the way. There are great views of the Urubamba River gorge and its mountains. Arriving at Inti Punku ("sun gate" 2700m/8,858ft), weather permitting we will see brilliant first views of Machu Picchu and have time to rest with plenty of time to photograph Machu Picchu below. From Intipunku, it's a short hike down to Machu Picchu (2,400m/7,874ft) with spectacular vistas along the way. Continue walking downhill for about 50 minutes to the entrance to start a guided walking tour of the magnificent archeological site. Enjoy a historical walking tour with your guide. Visit the extraordinary Temple of the Sun with exceptionally carved stones, Temple of the Three Windows features huge trapezoidal windows, Intihuatana the solar clock which translates to the, Hitching Post of the Sun, Funerary Rock Hut believed to be a place where the Inca nobility were mummified, and the many temples, terraces, and corridors. After a glorious, eye and mind opening visit with your guide exit the park together. Take the bus to the village for lunch (on your own) before boarding the train to the Ollantaytambo or Poroy station. Arrive in the station where our staff will be waiting to take you to your hotel in Cusco.
Breakfast and box lunch included
Walking Distance – 6km or 3.76 miles
Approximate hiking time – 3 hours

End of Services
Map
Included
Pricing
FAQS
Contact Us